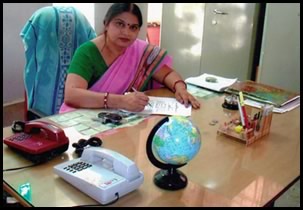 Dr. Sadhna Pandith
Dr. Sadhna Pandit, The Principal of the institutes. She is the pillar behind the roaring success of theinstitutes always in pursuit of excellence with innovative ideas to make it unique. She has contributed immensely in the field of education with advanced technology and current trends besides ensuring the best resultof the institute in the university. She also gives significant importance to various co-curicular acti vities and extra curricular activities of the students as these are in the real sense apart of the total personality development.
I am pleased to see consistent growth and development of this institution. The aim with which the institute had started in being fulfilled in offering quality education and training.The society has started new professional programs and has also undertaken number of programs to benefit our Indian Society.
We provide quality education with distinctive combination of cademic excellence and professional relevence to our students so that can fulfill the demands ands expectations of the society.
The institute has relentlessly endeavoured to make its students confident, knowleadgeable and Self Sufficient.I wish all the best to colleagues, friends, students and everybody else who have ben with us in our journey towards excellence."